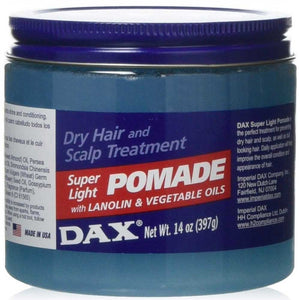 DAX SUPER LIGHT POMADE 14OZ
Lanolin in addition to mineral oil as well as castor, olive, and coconut oil, along with bergamot extracts constitutes the main ingredients in Dax Pomade offered by DAX. This elixir of vegetable oils is perfect for severely affected hair that has turned brittle, is prone to split ends and suffers ready breakage, often due to overuse of heating equipment. It works like magic to replenish dull and lifeless hair to smoothen, hydrate and promote hair growth. Steady use is sure to show positive results.
Key features:
• Goodness of vegetable oils.
• Suitable for highly damaged hair.
• Softens the hair from the roots.
THE PRODUCT IMAGE MAY VARY DUE TO THE FAST MOVING INDUSTRY
---
We Also Recommend