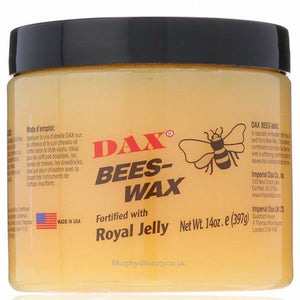 DAX BEES WAX 140Z
Dax Beeswax is one of DAX's range of hair care items that is rich in extracts from beeswax and royal jelly along with mineral oil and safflower oil that, when combined, act as antioxidants and nourishers that reduce hair breakage, frizz, and split ends. It works to smoothen unruly hair textures to keep them in place. Dax Beeswax makes those dead hairs glam up and also promotes hair growth if used routinely. Good for heat treated hair.
Key features:
• Antioxidizing properties wash away all impurities.
• Treats split ends and rough hair by adding shine and hydration.
• Propels healthy hair growth.
THE PRODUCT IMAGE MAY VARY DUE TO THE FAST MOVING INDUSTRY
---
We Also Recommend