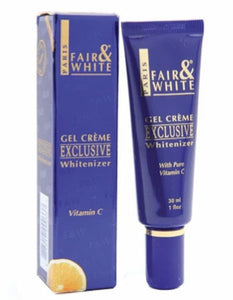 Fair & White Gel Creme Exclusive Whitenizer Vitamin C Dark Spot Corrector Cream Gel 1oz
End your search for skin brightening formulas that revive your bright skin tone and healthy-looking skin. Fair & White Exclusive Whitenizer Gel Cream With Vitamin C not just promises but surely gives the best results that will enhance your skin complexion.
Fair & White's Exclusive Whitenizer Gel Cream with Vitamin C is known for flawlessly reducing your skin tone. Enriched with vitamin C doubles its brightening function. The antioxidant Vitamin C fights against free radicals. It regenerates skin cells to promote healthier skin that is smooth in texture and lighter in complexion. Fair and white exclusive whitenizer gel cream with vitamin c gel is easy in application and blends perfectly to give cleansed skin free of uneven textures. 
---
We Also Recommend