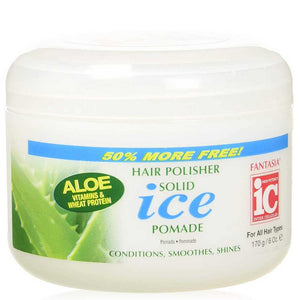 FANTASIA IC ALOE POLISHER SOLID ICE POMADE 6OZ
The most important benefit of solid ice pomade is that it holds the hairstyle tightly in very damp or humid conditions as well. No matter how moist is the weather, it absorbs all the humidity and uses it to soften the hair strands. It makes the rough hair smooth and frizz-free, while adding texture to the different types of hair. You can mould your hair or sculpt it, straighten it or curl it and the light formula will always be layered around without any build-up.
Key Features:
• It tames the rough hair and makes it smooth to touch.
• It highlights the textures of the stressed hair and brings the exact pattern out of it.
• It is completely water soluble and has no alcohol or other chemicals.
THE PRODUCT IMAGE MAY VARY DUE TO THE FAST MOVING INDUSTRY
---
We Also Recommend