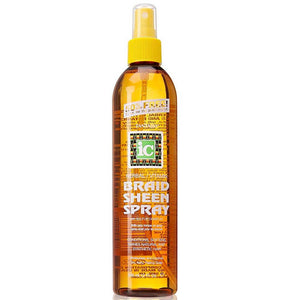 FANTASIA IC BRAID SHEEN SPRAY 12OZ
The main purpose of Braid Sheen Spray is to give extra care to the stresses of braided hair. It makes the hair soft and shiny by conditioning it to the core. It is made for all hair types but since braiding messes the hair up, it works the best on synthetic hair which is not very tangled and rough.
Key Features:
• It has the herbs and vitamins which control the dryness of the scalp and moisturize it.
• The natural shine formula actually stands true and gives a natural feel to the smoothness of the hair.
• It makes the hair softer and more manageable.
THE PRODUCT IMAGE MAY VARY DUE TO THE FAST MOVING INDUSTRY
---
We Also Recommend