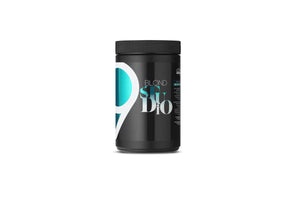 L'OREAL PROFESSIONNEL BLOND STUDIO 9 LEVELS MULTI-TECHNIQUES LIGHTENING POWDER **USE EXCLUSIVELY WITH LP FOIL** 500G
L'Oréal Professionnel's first lightening range activated by oil for up to 9 levels of lift. 
 • Provides an accelerated lift in the early stages of lightening 
 • Suitable for all lightening techniques 
 • To be used exclusively with L'Oréal Professionnel foil (Soft Alloy 8079, 20μm or Soft Alloy 1200 18μm), the use of Easi-Meche or any other type of foil is not allowed 
 • For optimal results, use with Blond Studio Oil Developers and always tone Blond Studio services with DIA by L'Oréal Professionnel
WHAT IT IS
Up to 9 levels of lift lightening powder for improved hair cosmeticity. 
WHAT IT DOES
• Up to 9 levels of lift
• Optimal neutralization
• Optimal adherence
• Low volatility texture
• Fast take-off
• Improved hair cosmeticity
• Multi-Techniques
WHAT ELSE YOU NEED TO KNOW
Blond Studio 9 is ideal for any type of lightening service such as balayage, full head or highlight refresh. 
It is the perfect partner to DIA Light Acidic Gloss Color for the ultimate service in-salon.
To be used exclusively with Blond Studio 9 Oil-Developers. 
For on-scalp technique, use only 20 vol Blond Studio 9 Oil-Developer.
For enclosed techniques, use only L'Oréal Professionnel Aluminium Foils. 
Do not use heat and do not exceed 50 minutes development time. 
Preparation : 
Blond Studio 9 + 2 specific Oil-Developers : 20 vol and 30 vol
Application & Development : 
Development time : up to 50 min 
MIXING RATIO:
On scalp
20 vol Developer  
1+2 
Off Scalp 
(see technical sheet) 
SPECIAL INSTRUCTIONS:
Do not use heat / Do not exceed 50minutes development time / Do not tie hair up / Use only with L'Oréal Professionnel Aluminium Foils / Use only clean plastic tools. 
SODIUM SILICATE, POTASSIUM PERSULFATE, AMMONIUM PERSULFATE, MAGNESIUM CARBONATE HYDROXIDE, TALC, PARAFFINUM LIQUIDUM / MINERAL OIL, DIMETHICONE, GLYCINE, CI 77007 / ULTRAMARINES, HYDROXYETHYLCELLULOSE, SILICA [NANO] / SILICA, ACRYLATES/C10-30 ALKYL ACRYLATE CROSSPOLYMER, DISODIUM EDTA, AQUA / WATER.
 
---
We Also Recommend