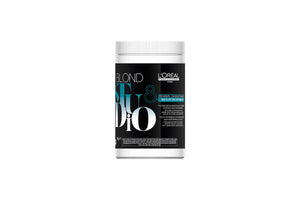 L'OREAL PROFESSIONNEL BLOND STUDIO LP MULTI TECHNI POWDER 500G
Compact blue powder infused with pro-keratin for up to 8 levels of lift. 
 • Suitable for all blonde services 
 • Creamy texture provides high adherence and low odour 
 • Ultimate performance & condition 
 • For optimal results, always tone Blond Studio services with DIA by L'Oréal Professionnel
The Multi-techniques Powder is specifically adapted to allow the colourist to have the flexibility to perform open air techniques such as classic highlights or a more natural balayage. Full head application can also achieve an all-over blonde. Enriched with Pro-Keratin, it has a low odour technology and is perfect for global, enclosed highlights and freehand techniques. The lightening powder is suitable for all hair types. 
Mix in a 1:1 ratio with the Blond Studio Nutro Developer for freehand technique, 1:1.5 ratio for enclosed techniques and a 1:3 ratio for a global application.
---
We Also Recommend