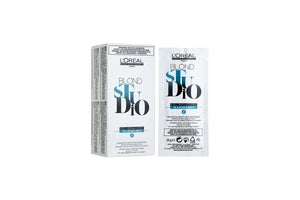 L'OREAL PROFESSIONNEL BLOND STUDIO MAJIMECHES DOUBLE CREAM SACHETS 6*25ML
Lightening sachets for a single application highlighting without ammonia. 
 • Suitable for all hair types 
 • High-performance lift and pro-keratin enrichment 
 • Ammonia free for a pleasant smell 
 • For optimal results, use with Majimèches Highlighting Cream 
 • For optimal results, always tone Blond Studio services with DIA by L'Oréal Professionnel
The combination of the double crème texture provides precise, luminous, natural-looking highlights. The formula is enriched with Beeswax and Incell™ technology and helps leave hair feeling soft. Majimèches allows you to achieve up to 5 levels of lift whilst maintaining a beautiful natural golden reflect. The highlighting cream leaves hair looking glossy and feeling soft.
Use in a 1:1:1 ratio (25g of the sachet or 25g of the cream to 25ml of the Cream Oxydant).
---
We Also Recommend