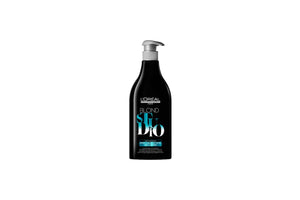 L'OREAL PROFESSIONNEL BLOND STUDIO STUDIO POST SERVICE SHAMPOO 500ML
Removes all traces of lighteners from the hair, leaving an even base for toning. 
 • Leaves the hair smoother and feeling beautifully conditioned 
 • For optimal results, always tone Blond Studio services with DIA by L'Oréal Professionnel
The L'Oreal Professionnel Blond Studio Post Service Shampoo is a gentle formula that is designed to remove all trace of any lightening product, including powder residue, while rebalancing the hair's pH. It leaves an even base for toning. It gently cleanses to protect the integrity of the hair fibre.
A backwash shampoo to be used immediately after a colour service. This in-salon, post-colour shampoo gently cleanses coloured hair and eliminates traces of oxydants which can continue to lighten if not removed. It enhances and promotes the lustre and shine of all coloured hair. Apply immediately after a colour application, to complement the action of colouration.
---
We Also Recommend