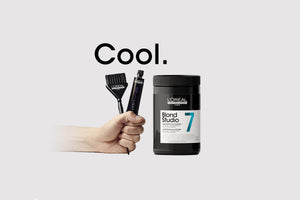 L'OREAL PROFESSIONNEL HAIR COLOR COOL FRENCH BALAYAGE - INCLUDING NEW CLAY POWDER
For clients that want a cooler ash result. Bundle includes:
x1 selection of ash, iridescent Dia Light shades*
x1 New Blond Studio Clay
x1 Diactivateur 9 Vol.
x1 L'Oréal Professionnel Cream Oxydant 30 Vol
*Dia Light shades include: x1 of each (9.01, 9.02, 9.12, 10.01, 10.02, 8.21, 7.12) + x2 Dia Light Clear to help create pastel tones.
---
We Also Recommend