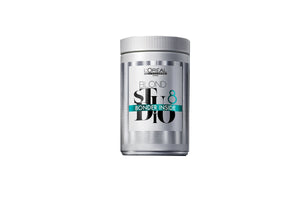 L'OREAL PROFESSIONNEL BLOND STUDIO MT8 BONDER INSIDE 500G
Blond Studio 8 Bonder Inside is an all-in one bonder in lightener powder. This new generation bleach formula gives up to 8 levels of lift with high concentration of bonding complex built-in. 

WHAT IT IS
Lightening powder infused with a bonding complex to maintain the integrity of the hair during the lift. No extra mixing, no extra time!
It is compatible with all bleaching techniques : foil, open-air, on scalp. 
WHAT IT DOES
• Lifts up to 8 levels, from subtle to contrasted results
• Bonding Complex to protect bonds and keep the hair strong while lightening.
• Lightens and protects in one step for a faster process due to no bonding additives needed.
WHAT ELSE YOU NEED TO KNOW
Blond Studio Multi-Techniques 8 Bonder Inside is ideal for any type of lightening such as balayage, full head or highlight refresh. 
It is the perfect partner to DIA Light Acidic Gloss Color for the ultimate caring service in-salon.
PREPARATION :
(schéma)
APPLICATION & DEVELOPPMENT : 
Up to 50 min 
On scalp 
20  et 30 vol / 1+2 
Global on scalp, mixing ratio 1/2 mix 
Off Scalp 
20, 30 et 40 vol / 1+1
OPEN AIR TECHNIQUE mixing ratio 1/1mix
ENCLOSED TECHNIQUE mixing ratio 1/1,5 mix

SPECIAL INSTRUCTIONS:
Do not use heat / Do not exceed 50minutes development time / Do not tie hair up / Use only with sweet meches, Quick meches, Easy meches or aluminium foil by L'Oréal Professionnel 
 
1240626 INGREDIENTS:
Potassium persulfate. sodium silicate. sodium stearate, magnesium carbonate hydroxide. ammonium persulfate. citric acid. sodium metasilicate. cyamopsis tetragonoloba gum/guar gum. paraffinum liquidum/mineral oil. CI 7007/ ultramarines. sodium lauryl sulfate. disodium edta. aqua/water. Gycline C250296/1.
---
We Also Recommend