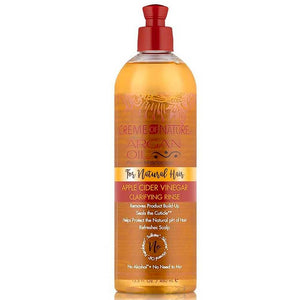 CREME OF NATURE ARGAN APPLE CIDER VINEGAR 460ML
The natural ingredients of apple cider vinegar and Moroccan Argan Oil give a unique combination of cleansing and moisturisation. Crème of Nature Apple Cider Vinegar Clarifying Cleanse removes product build-up, dirt and grime effectively without loss in moisture of the hair and scalp.
Key Features:
• Moroccan Argan Oil is rich in natural phenols and Vitamin E, that not only moisturises hair but also deeply enriches the scalp to stimulate the growth of thick, lustrous, and incredibly shiny hair.
• Deeply nourishes and moisturises the hair shaft for smooth, silky, and soft hair.
• Rids hair of breakage due to damage, build-up and heat.
• Apple cider vinegar cleanses the scalp and hair follicles off dirt and grime while leaving hair lustrous and shiny!
THE PRODUCT IMAGE MAY VARY DUE TO THE FAST MOVING INDUSTRY
---
We Also Recommend