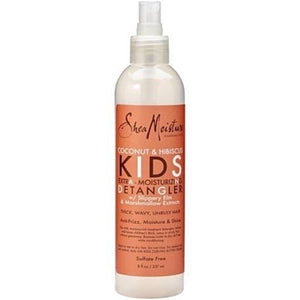 SHEA MOISTURE COCONUT & HIBISCUS KIDS EXTRA-MOISTURIZING DETANGLER 8OZ
SheaMoisture Kids Detangler - Coconut & Hibiscus Kids Extra-Moisturizing Detangler Spray
Make hair washing day easier for you and your kids with this SheaMoisture kid's detangler conditioner with Coconut and Hibiscus. Instead of the constant struggle to avoid hurting young tender heads with all of that tugging and pulling, you can finally gain more control over those nagging curls or waves. That means that it's time for SheaMoisture's Coconut & Hibiscus Kids Extra Moisturizing Detangler.
This hair care product is nothing short of a magic potion that will bring bounce and life back in your child's hair!
This good-smelling kid's detangler spray is an absolute must have hair moisturizer from SheaMoisture. It contains certified organic Shea Butter, which is essential in keeping hair frizz-free and soft as silk. Slippery Elm Extract makes your child's hair smooth to touch, while Coconut Oil hydrates, and helps in defining curls for easier natural styling. Hibiscus Flower Extracts add luster and volume to youthful hair, giving those kiddie curls extra bounce.
SheaMoisture's Coconut & Hibiscus Kids Extra Moisturizing Detangler protects and moisturizes your child's hair from roots to ends. Its natural ingredients make this detangler completely safe for use by children of all age groups. We've designed it to work wonders for kids with hair types ranging from 3A to 4C. Apply this rich formula sparingly on wet or dry hair and watch as this product weaves its magic to transform your child's wavy, curly hair to beautiful, frizz-free, glossy curls.
Directions:
Apply to wet or dry hair. Do not rinse. For added body and control, style with Kid's Curling Butter Cream.
---
We Also Recommend