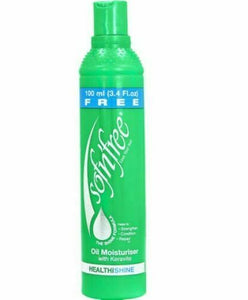 Sofn'free Oil Moisturising Spray with Keravite 250ml
Sof n Free Oil Moisturizer with Kerative is the shine formula for silky, shiny hair like never before! A luxurious non-greasy formula, which is easily absorbed, penetrates the hair, giving it added moisture. With frequent use oil moisturizer will help to repair, strengthen and protect your hair against excessive dryness, brittleness and thermal damage. 
Sof n free oil moisturizer with a delicate coconut fragrance will leave your hair smelling and looking simply fabulous.
---
We Also Recommend