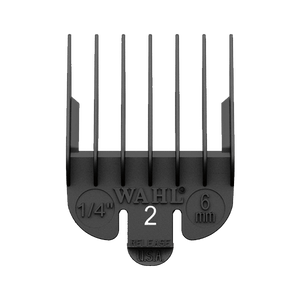 Wahl : Comb Attachment #2 Clipper Black
Suitable for all their greatest clippers, the Wahl 3124 No.2 Attachment Comb 6mm Black easily slips on to provide fuss-free and reliable cutting. Made from only their highest quality plastic the combs are designed for intensive long-term use in the very best barbers, making them more than adept for home use.
Why it Works
The Wahl 3124 No.2 Attachment Comb 6mm Black fits all of Wahl?s professional clippers including their world famous Super Taper. Every single comb is perfectly produced to ensure the same 1/4 inch hair finish for years to come.
Will this guard / attachment comb fit my clipper?
This guard / attachment comb is made by Wahl to suit all their taper clippers.
Taper clippers have a taper lever on one side. This allows you to adjust the length of cut by moving the blade up and down, for closest and longer cut. 
 THE PRODUCT IMAGE MAY VARY DUE TO THE FAST MOVING INDUSTRY
---
We Also Recommend